All-in-one Industrial IoT beer fermentation monitoring
Producing alcoholic beverages involves biochemical reactions that need close monitoring for good results. Find out how IIoT can simplify your fermentation monitoring!
Creating alcoholic beverages goes way beyond just blending ingredients. For example, it takes care and expertise to produce a good beer. The product requires multiple steps – malting, mashing, fermentation – where little helpers like enzymes and yeasts play important roles.
However, we have to give our little helpers optimal working conditions if we want good drinks. Therefore parameters such as temperature, extract and alcohol content are important to influence these conditions during the process.
Often, a system to monitor parameters looks like this: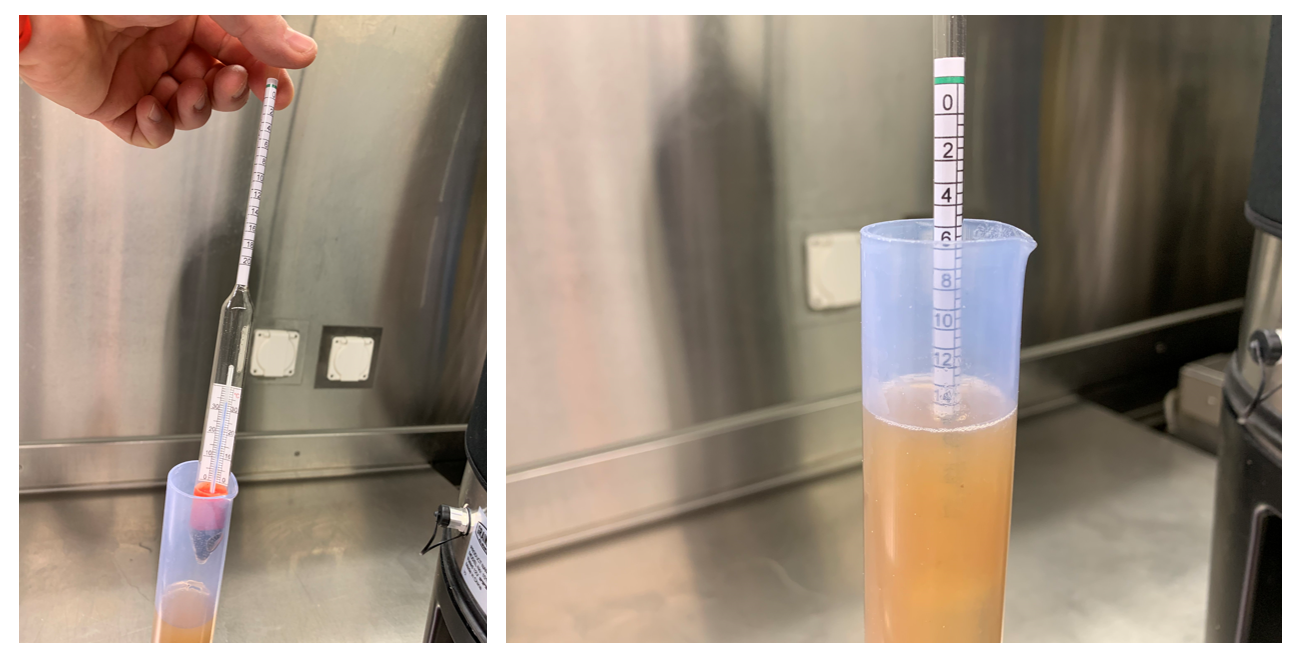 If this setup looks familiar to you, then read on, because you could be doing more in the time you spend manually spindling. Let's learn about digitalizing your beer fermentation monitoring system with IIoT.
Table of Content
What are the advantages of online beer fermentation monitoring?
Correction: Constant measuring and threshold alerts maintain good quality
Speed: Remote data access allows quick intervention, improving process times
Optimization: Historical-data analysis enables effective process improvement
Digitalization and IIoT can improve nearly all aspects of your product's quality. So how do you set up a connected monitoring system for your fermentation process?
Let's start with why and how you should use inline sensors to digitalize your beer fermentation monitoring before talking about IIoT.
Why should you digitalize your fermentation monitoring?
The main advantage of having a device instead of a human checking your process values is that you get consistent updates of all parameters relevant to your fermentation, instead of irregular manual samples at uneven time intervals.
The safety and quality of your process improves with a constant overview. Now you can act immediately when abnormal values show up, rather than finding out at the next sampling. It saves you money too, by reducing manual labor and waste.
How can a fermentation monitor support you?
Let's take Endress+Hauser's Fermentation Monitor QWX43 as an example. This convenient inline multi-sensor system measures four values at once – density, viscosity, sound velocity and temperature – and presents them to you via an online dashboard.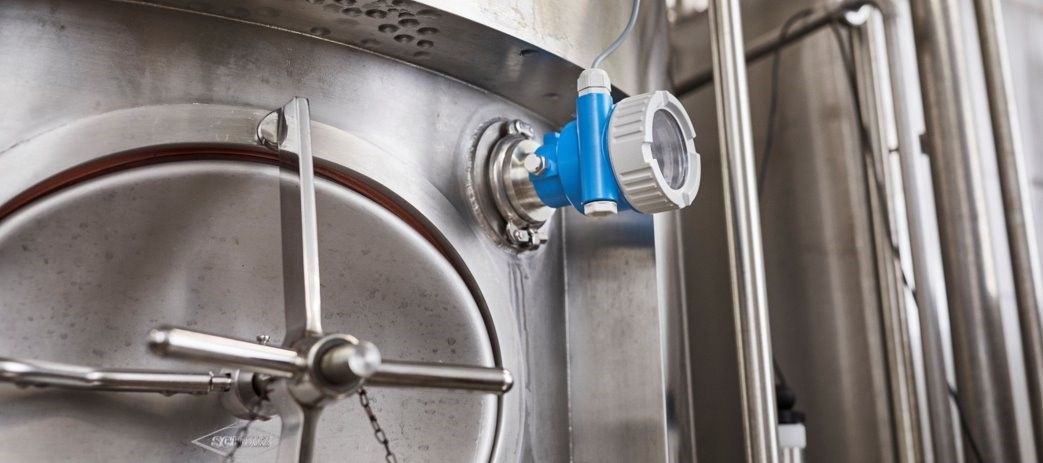 You can increase production quality by setting threshold values so that the device automatically notifies you when a value meets its threshold. Knowing exactly when fermentation finishes can reduce time spent on that step, freeing the tank for the next batch. At the end of the year, you get more beer out of the same tank!
Also, the sensors are enclosed in a hygienic stainless-steel body, designed in accordance with EHEDG and 3A, thus enabling tank-integrated cleaning.
How does a beer fermentation monitor work?
For instance, the Endress+Hauser's QWX43 combines a piezoelectric tuning fork with several sensors. The sensors measure density, to assess fermentation, and viscosity, to control quality and predict filtering times.
An ultrasonic transit-time measurement between the tines of the fork is used in combination with density measurements to determine complex variables such as alcohol content.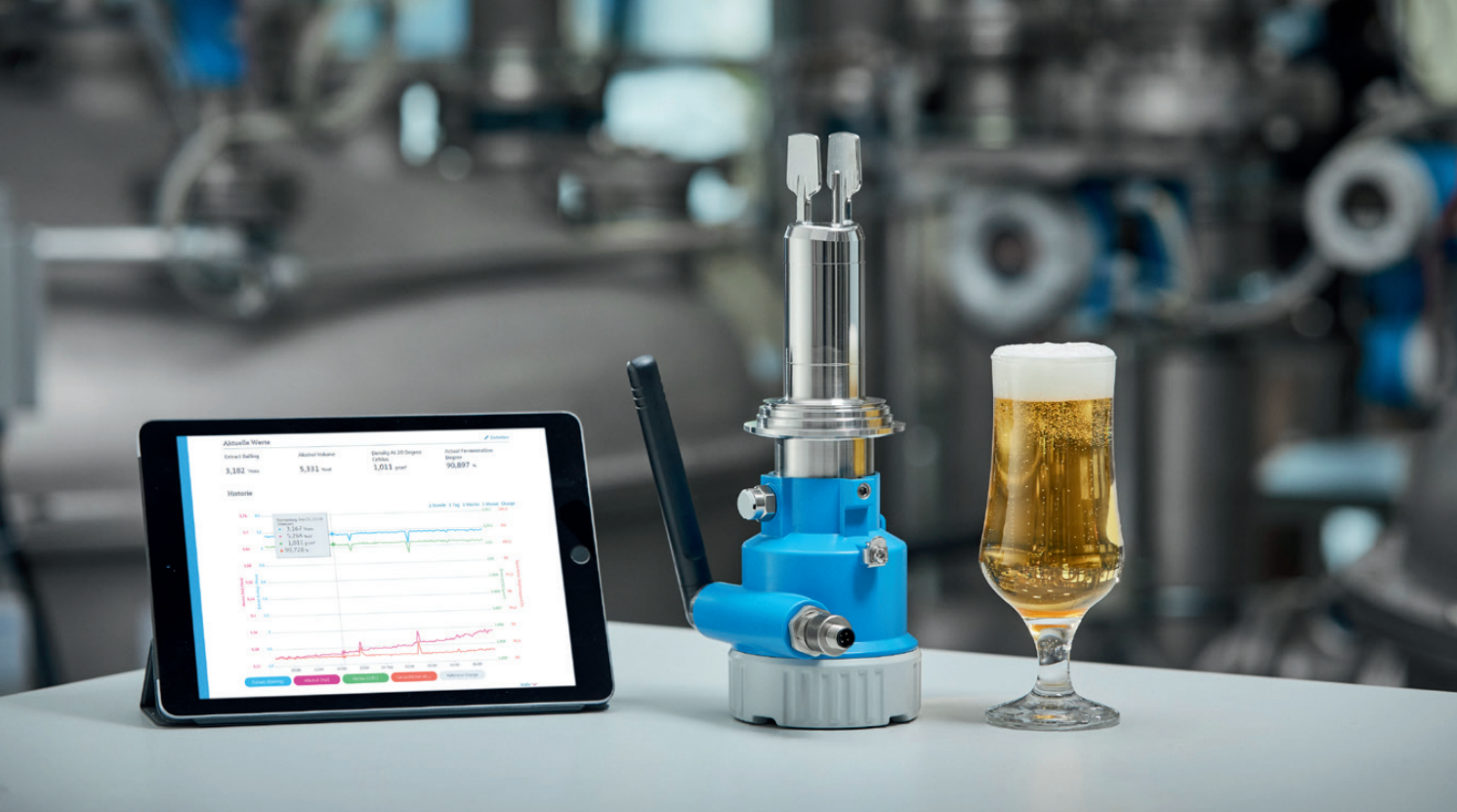 The fork has a rounded design that reduces the buildup of gas bubbles on the sensor surface and increases measurement stability and reliability.
How to install a digital fermentation monitor with IIoT
The sensor easily adapts to different tank systems and wirelessly connects to the cloud, so you can monitor the tank in the control center or even on your phone, instead of on the sensor's screen at the tank.
Now you'll know what's going on in your fermentation without being on site.
The monitor connects to Netilion, Endress+Hauser's IIoT ecosystem, without a gateway or edge device. You can access your data anytime in the Netilion Value app, monitoring up to four values in one diagram.
As they're all recorded in the cloud, you can view values from past batches, compare them, and export them to a spreadsheet for further analysis.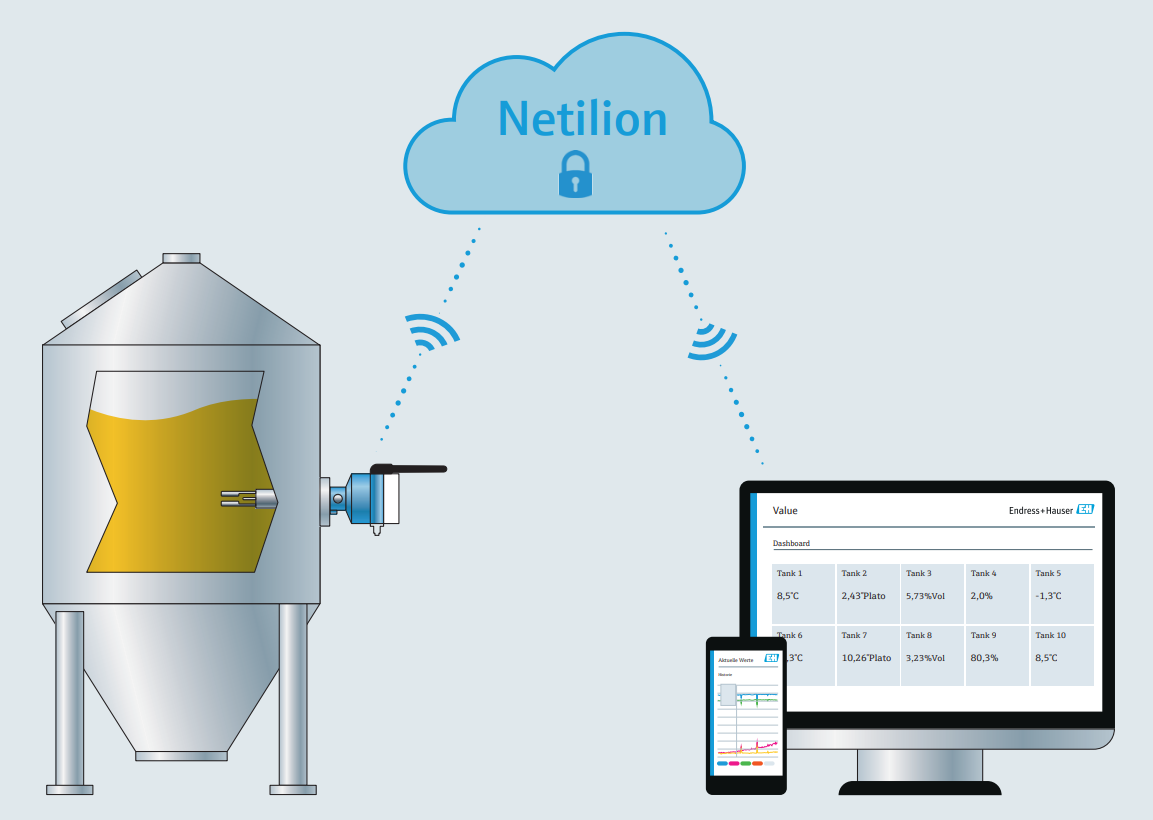 Netilion also offers the ability to save parameters from past batches, create various recipes and choose which to use at each tank filling.
Ready to monitor your fermentation process with an IIoT device?
You can engage Netilion's full suite of IIoT services with Endress+Hauser's Fementation Monitor QWX43. This cloud-ready 4-in-1 instrument offers a complete beer monitoring system that only needs a wireless network connection to provide all your process data remotely.
Check out some of the things you can do with it:
Access accurate live data at any time from anywhere, eliminating information gaps
Analyze data and optimize processes in a secure environment
Reduce costs of on-site labor and manual sampling
Optimize tank occupancy with automatic remote alerts for desired fermentation levels
Reduce documentation hassle and increase consistency with data downloads
Consolidate documentation and share it with your team
Use the time and money you saved to experiment and develop new processes and recipes
Comments? Questions? Share them with us on social media using the tag #Netilion. You can share this article with the #Netilion tag too.
Cheers!