Remote instrument verification: Stay at the pulse of your assets from everywhere
Never change a running system: everyone knows this. And for plant managers and maintenance engineers, there is nothing more beautiful than seeing their process running smoothly. In order to minimize process interruption times, Endress+Hauser has developed the Heartbeat Technology several years ago.
Meanwhile, numerous customers benefit from Heartbeat Verification in more than one way – by optimizing the calibration process and even prolonging calibration intervals. What is new now is the possibility to manage Heartbeat Verifications remotely in our IIoT ecosystem Netilion.
Stay at the pulse of your instruments – wherever you are, at any time
The Industrial Internet of Things is designed to ease the daily work in industrial plants. Making information available and unlocking knowledge is what Endress+Hauser's IIoT ecosystem Netilion stands for. Netilion bridges the physical and the digital world by collecting data from the field and making it accessible anywhere and at any time. And from now on, Netilion offers a Heartbeat Technology integration. This means that – wherever you are – you can trigger instrument verifications remotely.
Remote Heartbeat Verification gives you more flexibility in checking the function of your assets without even being on site. You will increase efficiency by saving the time and costs for carrying out verifications or calibrations the conventional way. And on top of that, you also ensure compliance with the rules defined in your industry and reduce safety risks: triggering device verification remotely does not require entering hazardous areas.
Netilion allows you to stay connected to the pulse of your instruments around the clock.
Remote instrument verification with Netilion – how does it work?
What are the exact steps of triggering a device verification remotely with Netilion? The starting point of remote instrument verification is the Netilion IIoT ecosystem. Or to be more exact: the digital service Netilion Health. Netilion Health is a digital asset health management service that aggregates diagnostics from your field devices according to NAMUR NE 107 statuses. The service allows you to check the health status of your assets remotely and access cause and remedy information to help you get your assets back into normal working order asap.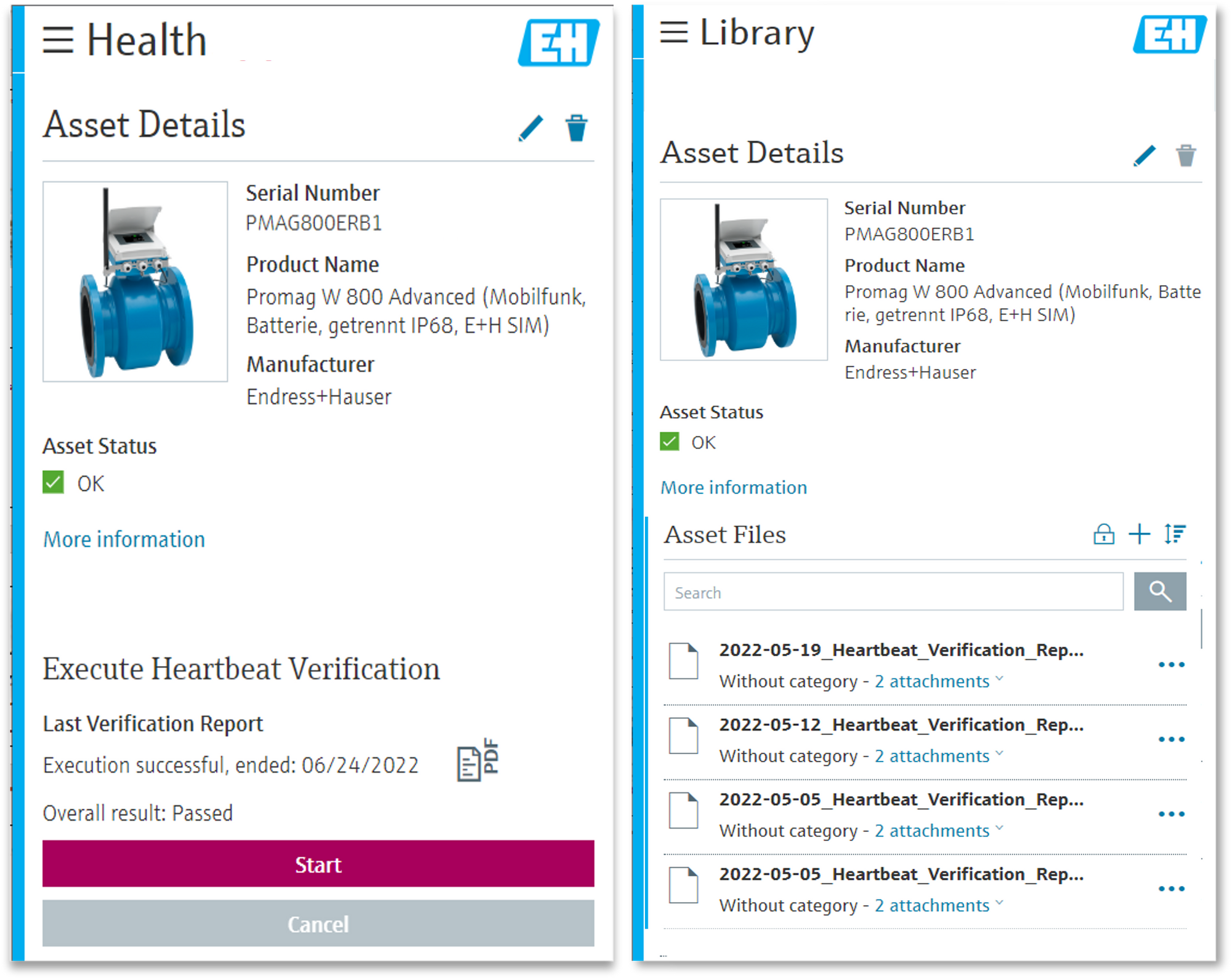 Now, Netilion Health also has the possibility to manage Heartbeat Verifications. By adding the Heartbeat Verification add-on to your Netilion Health subscription, you are empowered to generate instrument verification reports. You can optionally save them to Netilion Library – our corresponding file management service.
The other point you need to consider for remote device verification is connectivity. Some field instruments can connect directly to Netilion (e.g. the flow meter Promag W 800). And other devices need an additional edge device (FieldEdge SGC500) for establishing the connection. Currently, remote Heartbeat Verification is possible for Endress+Hauser's flowmeters which are Heartbeat Technology enabled, have an active Heartbeat Monitoring & Verification license and communicate via the HART protocol. Endress+Hauser will be happy to consult you about the remote verification options for your instrumentation set-up.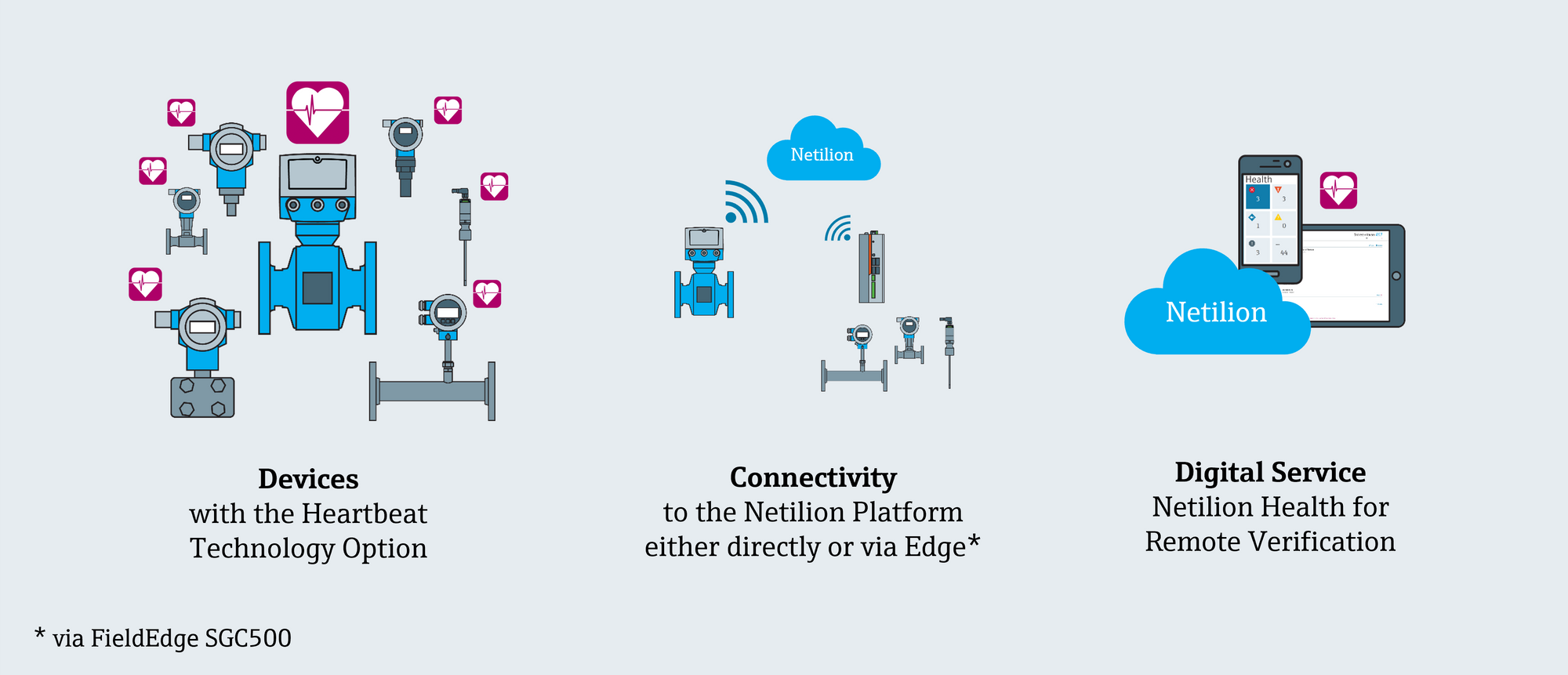 What is instrument verification and how does it help me?
Taking one step back from remote device verification, let's just have a look at why field device verification is generally a good idea – if you have not been practicing it up to now. Heartbeat Verification uses the self-monitoring capabilities of a field device to verify the meter functionality. This means that the components of the meter are verified to meet factory specifications.
If a device passes a Heartbeat Verification, then it is very likely to be performing as expected. That's why such a device would, with a very high degree of probability, also be calibrated successfully.
Instrument verification vs. calibration?
So, when do you need to calibrate your instruments and when is a verification sufficient? This question must be answered individually. Some users of Heartbeat Verification replace the initial calibration by a device verification. Others prolong the calibration periodicity by triggering instrument verifications in between calibrations – depending on the local authorities' requirements. In the end, Heartbeat Verification enables you to gain productivity gains while ensuring compliance, since you can achieve optimized calibration/proof test cycles through traceable device verification without process interruption.