We have updated the Netilion offering for optimizing our service for you
For our appreciated Netilion users we want to offer the best possible service. We have simplified our pricing and user models and can now offer you easy and transparent plans.
For our appreciated Netilion users we want to offer the best possible service. We have simplified our pricing and user models and can now offer you easy and transparent plans. The changes will be effective on 24th of November 2020.
We now answer your most important questions on our changes:
What has changed?
What does it mean for me?
What do I have to do?
What has changed?
First, we want to offer you the perfect team experience. That's why we have integrated the team options into our plans. This means that from now on, the Plus and Premium plan come with several users (Plus: 2 users, Premium: 5 users) and you can even add extra users. Beforehand, each user needed a separate subscription. So now, we are happy to offer a real added value to you. It will decrease your costs when working within a team. And by sharing the same Netilion account, you can benefit from a common database and teamwork functions.
Secondly, we also want to simplify our business with customers using several Netilion Services. For this reason, we have harmonized the plans between the diverse digital services: Netilion Analytics, Netilion Health, Netilion Library and Netilion Value. From now on, for each Netilion Service you will have the choice between these plans:
Basic
Plus
Premium
Enterprise
The Basic plan will be for free and the Enterprise plan for customized solutions. Each plan will have the same features across all Netilion Services (e.g. number of assets, storage, etc.). Only Netilion Value has the option to add connected assets (like FWR30).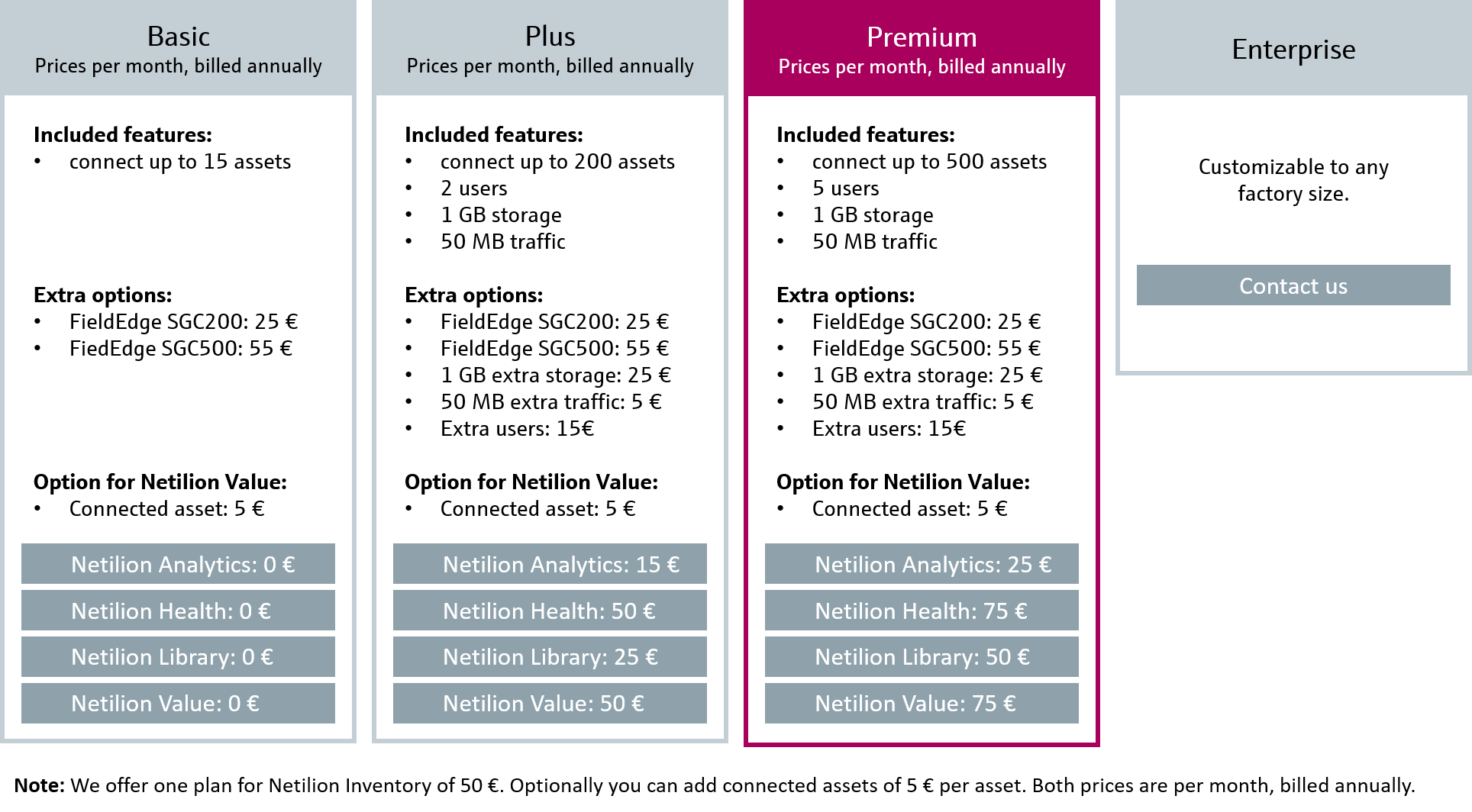 What does it mean for me?
If you are a Netilion user, you might be wondering what will happen to your existing subscription. Here comes the answer:
If you are currently using a free subscription (e.g. Netilion Analytics Basic or Netilion Health Free), you will have a Basic plan from now on. This means that your free subscription will stay free. There are no additional costs.
If you are currently using a paid subscription, the prices will be adapted according to the new price model. For example: If you have a Plus plan for Netilion Analytics with 150 assets, you will continue to have a Netilion Analytics Plus plan and it will cost only 15 € per month. The new prices will be applied at the anniversary date of the running subscription.
If you are currently using several Netilion subscriptions with your team and wish to have only one account with several users, please contact us.
If you have only one subscription and wish to share it with your colleagues, you can choose a Plus or Premium plan for 2 or 5 default users and can add even more users.
For any other questions please contact us.
Please note that you have the possibility to cancel your subscription anytime if you don't accept the new pricing model.
Every new user will directly start the subscription with the new prices.
What do I have to do?
No action is required on your part. The changes will appear automatically. If you wish to cancel your subscription, you will have to hand back your edge device (e.g. FieldEdge SCG500) in case you use one. All users who continue their Netilion subscription are welcome and invited to check out the new team functionalities. By default, the Plus plan can be used by 2 users and the Premium plan by up to 5 users. And you always have the option to add more users additionally.
The advantage is that all of you can work in the same Netilion account and will have access to the same source of information. Your colleagues will be able to see the same digital twins and their data. Moreover, the admin user has possibilities to adapt the permissions of the co-users. The scenes are set to work efficiently within a team. For getting to know more about a performant team set-up in the maintenance department, you will find interesting insights in our blog article.
We wish you a good experience on Netilion.