What is an edge device, and why is it so crucial to IIoT?
Edge devices are essential elements in Industrial Internet of Things solutions. Let's find out together, what they are, how they work and why you should have one.
First off, I must ask you an important question! Are you living on the edge? It's OK if you don't know the answer. Today the idea is to help you to find out if you are living on the edge or not, no kidding. You're going to blow your mind learning how edge devices can bring significant benefits to your plant.
Now, picture following situation: someone comes to you and starts talking about the Industrial Internet of Things. Before long you'll hear a lot of terms like cloud computing, digitalization, dashboard, edge devices and more. If you are not familiar with these terms, you will get lost at some point.
On the upside, however, you are here, and we already have a bunch of content explaining them. Guess what? Today, we will learn a new term, cool right? And if you are not familiar the others, visit the blog after reading this article and learn about them.
Back to this article – we can say edge devices are a relevant component in an Industrial Internet of Things application, but at the same time, you can find IIoT applications where you don't need to have one to get their benefits. Netilion Analytics is a good example; it allows you to use all its features without the need for an edge device to register your devices.  Sounds good, huh?
If we're honest, you can visualize the same type of information in a dashboard, but the experience of registering it in cloud computing and then creating the digital twin is different. The edge device offers automatic generation of a list of the devices in your plant. Without it, you have to add all the information manually.
Now, let's find out how it works, why you should have one in your application and if you are living on edge!
What's the difference between OT and IT?
Before we dive into edge devices, let's learn the basics. Do you know what OT and IT mean? Great, let me clarify it for you. When we talk about IT, we are referring to Information Technology.
In an industrial environment, IT is responsible for all the computers in the plant, the internet and intranet infrastructure, data storage, and ensuring that the exchange of electronic data is done securely.
Now, when we use OT, we are referring to Operation Technology. OT is the network where we have instruments such as field devices, the industrial control system, monitoring equipment, and where process data is exchanged. Today, OT and IT are converging because of the Industrial Internet of Things.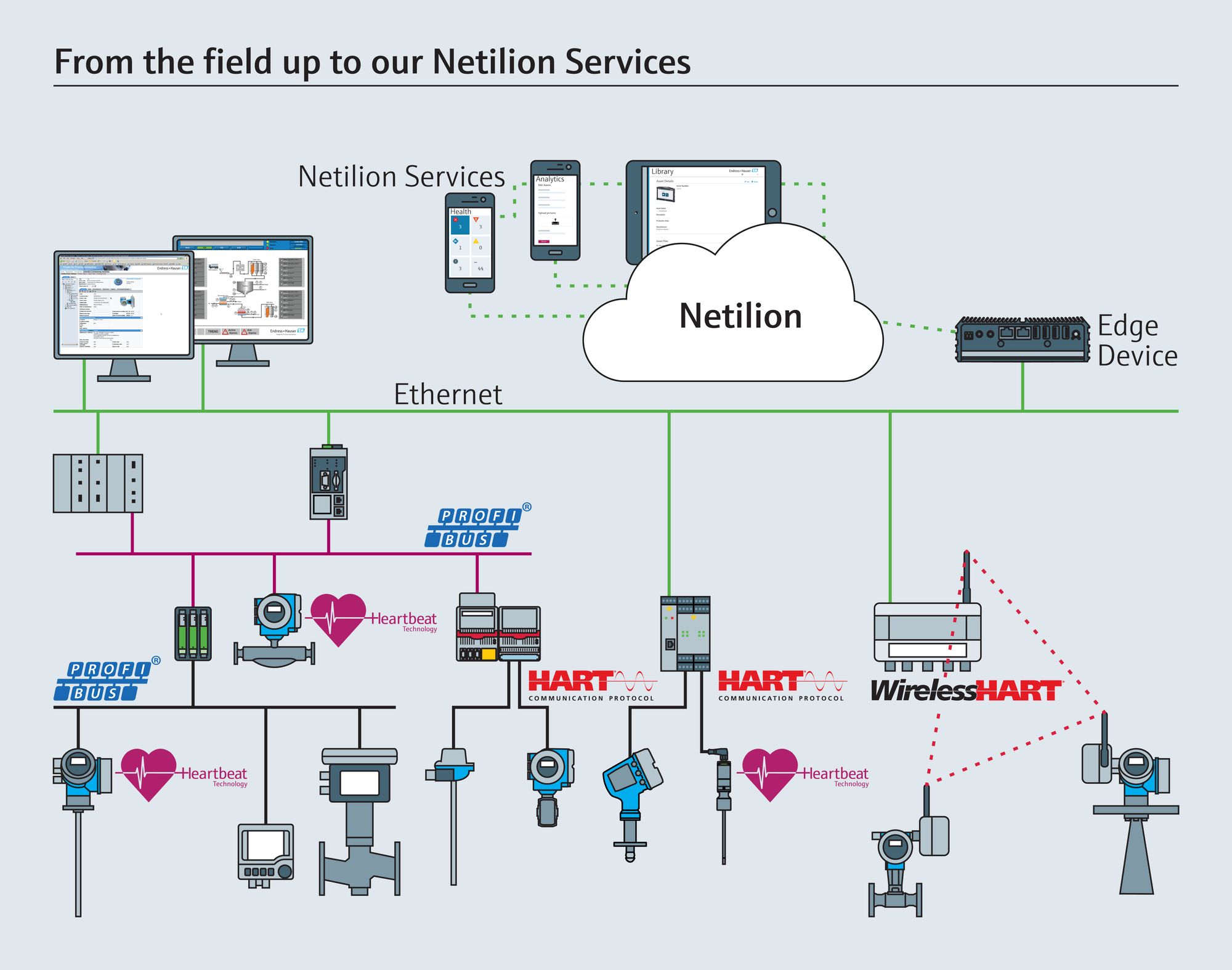 What's happening is that field devices are providing data over the internet for analysis, and the resulting information is shown in a straightforward dashboard using cloud computing. You don't need to collect it from the control system anymore.
Going back some years, OT was not a real networked technology. You didn't have networking in the field. Most of the information was carried by analog signals – even today you still find a heap of 4-20mA signals out there.
Afterwards, a couple of proprietary protocols popped up at the OT level, creating digital communication between the control system and the smart field devices.
OT vs. IT
Today, the scenario in the field is different. We find digital protocols based on the Ethernet connecting all these smart sensors with the control system and the internet. And we shouldn't forget the wireless sensors using protocols, such as Bluetooth and WirelessHART.
I can't let you forget that wireless is one of the easiest ways to collect and integrate data into cloud computing. Yes, I know there are other ways to connect and you find them here too.
Now, following the convergence of OT and IT, we have new possibilities as well as new concerns. By using cloud computing OT/IT allows the setup of an efficient monitoring solution with advanced data analysis that can be viewed from wherever you are in the plant on a simple dashboard.
Regarding security concerns, vendors are working hard are to provide a reliable, secure and high-level connection between the field and cloud computing that protects against any data leaks. For instance, Netilion has been awarded 4-star EuroCloud certification – best-in-class for the process industries.
Finally, there is the discussion regarding the responsibility of the OT and IT teams. The boundaries are not clear; most OT teams do not have a very deep knowledge of IT, and the same can be said of IT teams regarding OT.
However, if I can give you some advice, I recommend getting more familiar with the IT stuff – in the Industry 4.0 era it will help you a lot in your career. OK?
What is an edge device?
Imagine having a HART communication network in your plant, and then ask yourself how you could access the data from outside. An edge device is the network component responsible for connecting your local area network to an external and wide area network, where you can collect data from everywhere.
Moreover, it doesn't matter if you have a proprietary or non-proprietary network; the edge device is responsible for providing the local information to an external network. If you have different protocols, it also translates this information, making the connection between both network boundaries.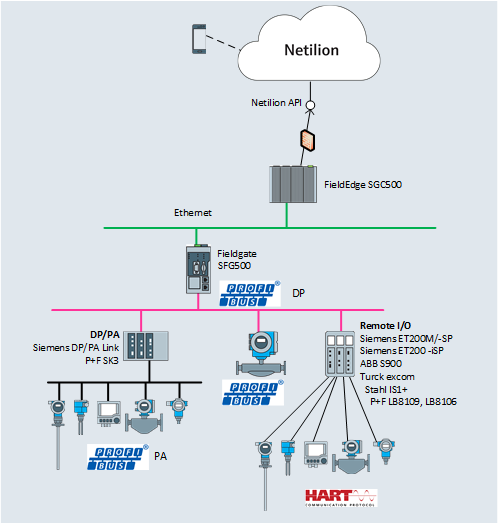 A cloud computing application must be populated with all the data from the smart devices. Depending on the service you want to use, this can be done manually by using apps to collect the data and then creating the required digital twins.
To analyze diagnostics or have automatic data populating, however, the edge device is needed to make a secure connection between the field network and the cloud computing.
Imagine that you are monitoring process values using an edge device and cloud computing when one day the internet connecting the edge device and cloud crashes.
What happens next? Well, nothing actually – the edge device will store all the information until you have established the connection again, so you won't lose any process information. Not bad, eh?
A point to remember though: not all edge devices offer local storage. Whether you need it depends on the application and service you want to implement on your plant — a case of horses for courses, offering the same advantages when correctly selected.
How does an edge device work?
Believe me, an edge device has a very straightforward working principle: it connects two different networks and translates one protocol into another. Furthermore, it creates a secure connection with the cloud. Cybersecurity a major topic regarding edge devices and cloud computing.
An edge device is configured via local access and also has a port to connect it to the internet and cloud. A short word about the configuration. In general, we can say an edge device is plug-and-play, its setup is simple and you won't spend much time doing it.
Take a look at the procedure to set up the SGC500 and see how simple an edge device can be. If you want to learn more regarding the cybersecurity and how it is applied to cloud computing and edge devices, you can read the article "Cybersecurity in industry plants with IIoT: What really counts …and how safe is Netilion?"
Why should I use an edge device?
Depending on the service you want to apply in your plant, the edge devices will be a crucial point to collect the information and create an automatic digital twin of your device in the cloud.  
For instance, Netilion Health is one of the services where you need to have the devices connected to the cloud, and the bridge between the field and cloud will be the edge device.
Now, if you want to have Netilion Library, you won't need to have an edge device. You can use your laptop, smartphone, tablet or field communicator (Field Xpert) to create the file in the cloud.  In this scenario, you won't need an edge device in your network.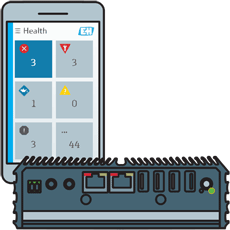 It's important to add that edge devices are essential in IIoT solutions because they connect the information from your network to a cloud solution. They do not affect or write on your network, but only collect the data from it. They are never going to cause a problem with the communication between your control system and the field devices.
Going back to traditional solutions, many Plant Asset Management (PAM) systems collect information from the control system. I've seen many customers who were worried about the connection between the PLC or DCS and the PAM system.
If you are using an edge device to collect information, you won't need to touch your control system. Summing up: communication is one way only, nothing is written into the network and data are acquired with the highest possible security.
Am I living on the edge?
If you still blind to all the diagnostics and status information provided by your devices, I can tell you that you really are living on the edge! But wait, you can change this situation.
You can deploy an IIoT solution!  With Netilion Health you can see what's going on with your field devices and with Nelition Analytics have a clear picture of what devices you have in the field.
As we discussed here today, edge devices provide straightforward integration and high-level security in their communication.
In addition, Netilion cloud computing follows high-level standards, such as ISO 27001 (Information Security Management), ISO 20000 (Service Management System) and ISO 9001 (Quality Management System). It also has EuroCloud certification with a 4-star rating – best-in-class for process industries.
Why are you still living on the edge?