Netilion Health: a multi-brand tool for asset health monitoring
The digital service Netilion Health offers maintenance information on industrial equipment for more than 50 brands.
The digital service Netilion Health offers maintenance information on industrial equipment for more than 50 brands. It is a huge benefit for maintenance teams in industrial automation to start remote asset health monitoring.
We truly believe in making usage as easy as possible and will support you in keeping your plant up and running. We know it will help you to monitor the health status of all assets in your plant. Of course we cannot promise that Netilion Health know each and every field device, but we are continuously extending our range of supported products. Hundreds of field devices by more than 50 manufacturers are already available.
What is asset health monitoring with Netilion Health?
Netilion Health is a digital service for remote asset health monitoring. It allows you to be prepared and effective when unexpected events happen in your plant. You will find manufacturer troubleshooting information on error messages (cause and remedy instructions) and key content about the care of your assets. This enables you and your team to resolve problems quickly and efficiently. With Netilion Health, you have essential know-how at your fingertips, wherever you are.
Which field devices are supported by the asset health monitoring service of Netilion?
Netilion Health can process asset health information of field devices by these manufactures:
ABB
Ametek Drexelbrook
Anderson Instrument Co., Inc.
Autrol by Duon System Co.,Ltd
Auma
Azbil Corporation
Badger Meter
Berthold Technologies
Bopp & Reuther Messtechnik GmbH
Brooks Instrument
Cameron Technologies
Delta Controls Corporation
Det-Tronics
Draeger Safety AG & Co. KGaA
Emerson Automation Solutions
Endress+Hauser
Flowserve
Forbes Marshall
Gastron
General Electric
HACH Company
Hamilton Bonaduz AG
Harold Beck & Sons, Inc
Hawk Measurement Systems Pty. Ltd
Honeywell
Inor Process AB
JUMO GmbH and Co. KG
Krohne Messtechnik
Koso Engineering Co. Ltd
Limaco
M-System Co. Ltd
MSA
MTS Sensors
Magnetrol
Metso Flow Control Oy
Mettler-Toledo GmbH
Motoyama Eng. Works, Ltd
OVAL Corporation
Phoenix Contact
Pyromation Inc.
Rhosonics Analytical BV
Riken Keiki Co., Ltd
Rotork YTC Limited
Samson AG
Schneider Electric
Scott Safety
SICK Engineering GmbH
Siemens AG
SMAR
SMC Corporation
SWAN Analytical Instruments
Tokyo Keiso
Tracerco
VEGA Grieshaber KG
WIKA Alexander Wiegand SE & Co
Westlock Controls
Yokogawa Electric Corporation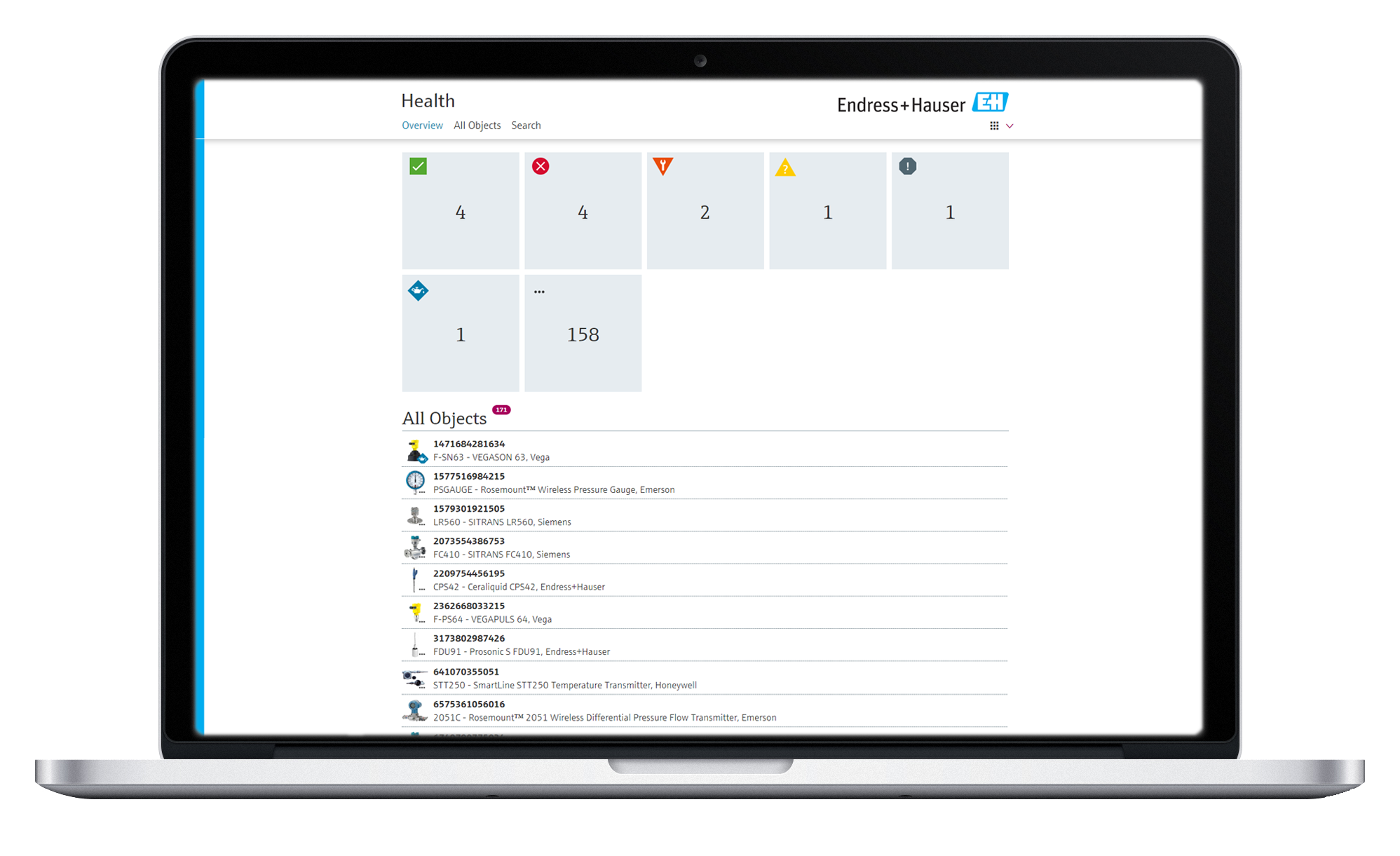 Are your field devices available in the asset health monitoring service?
There is a simple way of checking whether you can connect your field device to Netilion Health:
You can sign up for a free Netilion Health account now and check the availability of your field devices.