A simple way of adding IIoT to a PROFIBUS network!
IIoT is simply a very efficient way to acquire all device data so that it can be utilized to improve the process, health analyses, library access and more.
I've seen many PROFIBUS users operating their network like a 4-20 mA system. Okay, you are saying to yourself, what's he on about - PROFIBUS is utterly different to 4-20 mA and I am definitely getting all of its benefits!
Seen from my point of view, I agree with you, but when I look at what a lot of users are doing with PROFIBUS, they are simply losing out on the advantages.
Everyone using PROFIBUS has benefitted from its straightforward network architecture which saves a lot of time and money during installation and commissioning when compared to standard analog solutions. But a lot stop just there!
They simply don't use all the data from the devices - diagnostics and status, for example. If a device fails, the maintenance team are left in the dark about what happened and what to do about it, which results in many unscheduled downtimes.
There are many reasons why this happens: a complex Plant Asset Management (PAM) implementation, a poor user interface, a lack of training, a lack of compatibility between device management solutions and the control system. But all is not lost!
Thanks to Industrial Internet of Things (IIoT), we have a solution that offers straightforward implementation and configuration as well as an outstanding user interface.
Let's find out how to improve your PROFIBUS network in a few simple steps by collecting all the data from the field and providing your maintenance team with a great user interface that they can use at any time and in any place.
What do I need to know about the Industrial Internet of Things?
I guess if you are reading this article, you are already familiar with IIoT solutions. Anyway, let's briefly sum up all the relevant information regarding IIoT.
About 50 years ago, industry needed tons of workers to make production possible. It was practically impossible to increase productivity and quality - and also to decrease the number accidents.
When the microprocessor arrived in the 1970s – some call it the third industrial revolution – much of the manual work could be eliminated. A PLC (Programmable Logic Controller) could acquire a measurement from the field, apply a control algorithm and then actuate a valve or switch a pump on and off without human intervention.
The result was an improvement in the quality of the goods, an increase in productivity and a drastic reduction in accidents. Many nasty jobs were eliminated and a large number of new positions were created.
Now 40 years on, we are talking about the Industrial Internet of Things, also known as the fourth industrial revolution – or Industry 4.0 for short. But what does it mean?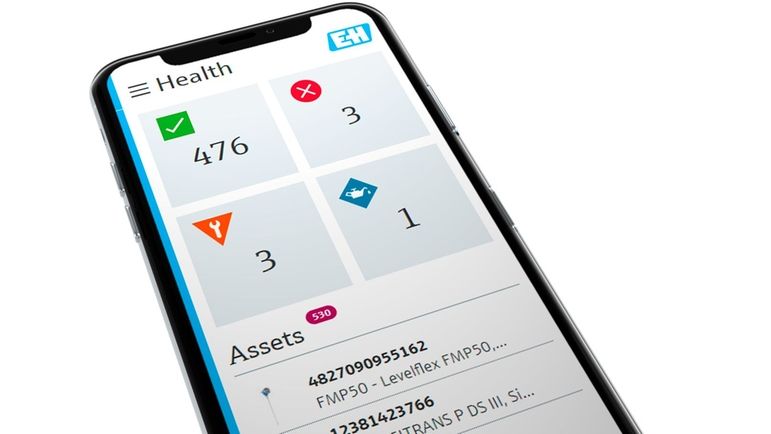 Smart sensors and machines began to show up on the market a few years after industry became automated. The initial focus was on configuration and improving functionality, but over the years the devices have become far more intelligent and the emphasis has turned to diagnosis and analysis.
Nowadays, it is extremely important to collect these data. IIoT is simply a very efficient way to acquire all device data so that it can be utilized to improve the process, health analyses, library access and more.
In addition to smart sensors, standalone IIoT applications are beginning to appear on the market. Such compact smart systems are often straightforward solutions to a particular application, for instance, surface water analysis and aquaculture monitoring systems.
How does PROFIBUS work?
Before we come to the Industrial Internet of Things solution for your PROFIBUS network, let's recap on how it works. We'll keep it simple!
Nowadays, PROFIBUS is a modular solution that uses different communication types for different applications. Its installation is flexible and straightforward. There are many applications in different industries around the world.
In the majority of cases the Decentralized Peripherals (DP) protocol is used for communication between centralized and decentralized devices.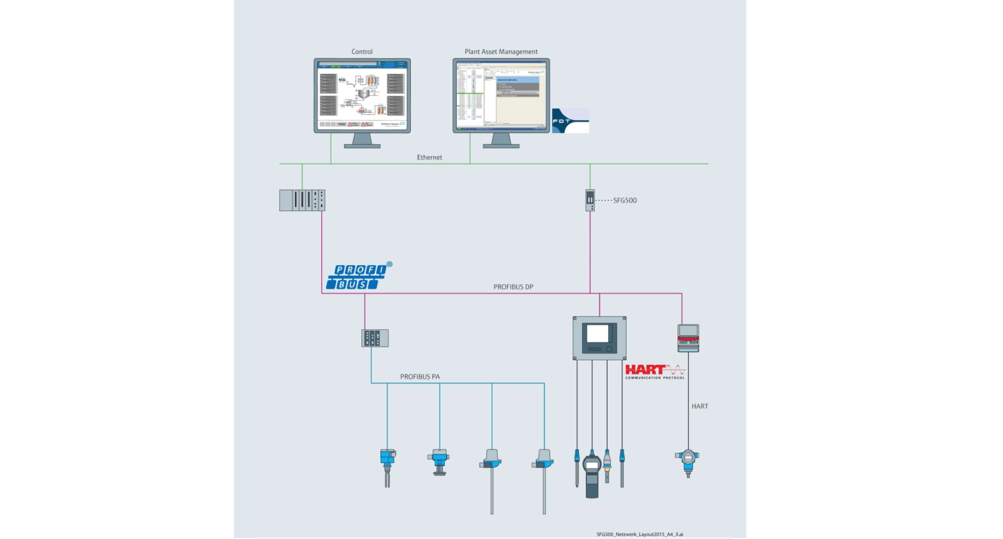 Most PROFIBUS DP networks transmit data over copper (RS485 physical layer) although optical fibers and even wireless can be used. The communication is based on the Open Systems Interconnection (OSI) layer model - maybe in the next article, we can dive into the technical details.
Some field devices support PROFIBUS DP but the majority use something called PROFIBUS Process Automation or PA. This uses the MBP (Manchester Bus Powered) physical layer, powers the devices over the bus and can be used in explosion hazardous areas – important for a lot of chemical and oil & gas applications. The PA devices connect to the DP network via couplers or links.
So, let's talk about the thing that really makes it so easy to connect your PROFIBUS network to an IIoT solution. In case you don't know, I am referring to the types of PROFIBUS DP master class.
PROFIBUS DP has two master classes; A Class 1 master does the cyclical communication with the slaves (devices) in the network, such as input and output information.
A Class 2 master does the acyclical communication, which allows the slaves to be accessed and setup as well as all their status and health information to be gathered without establishing a permanent connection.
How do I improve my PROFIBUS network?
First, we need to connect your PROFIBUS network to an edge device. Here, it's critical to have a device that provides simple configuration and the option of having automatic integration into the network.
Fieldgate SFG500 works as a Class 2 master collecting all relevant information from the field device as well as allowing remote access to all the devices in the DP and PA network. On top of that, the SFG500 has the option of connecting to the network using autoconfiguration.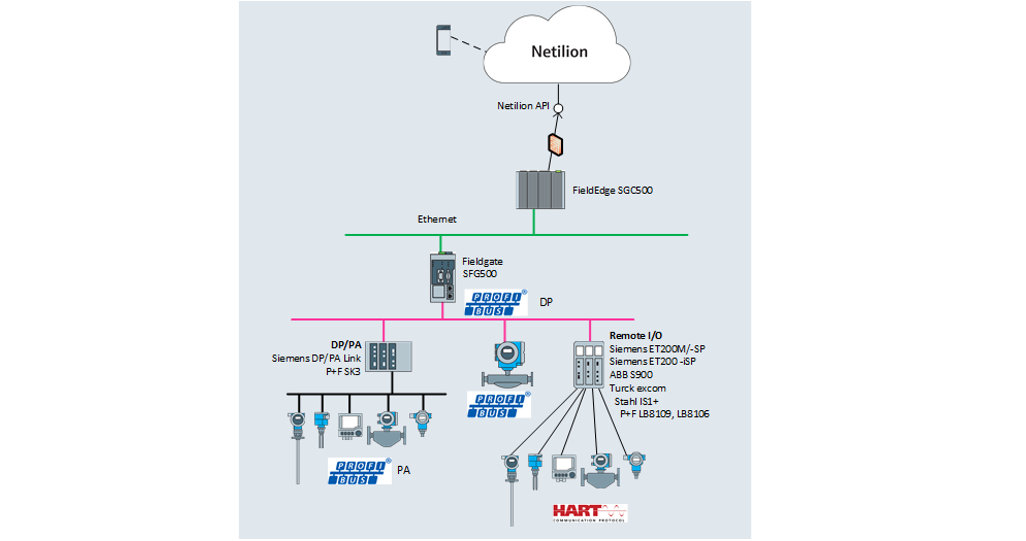 If you have a HART over PROFIBUS network, the SFG500 can also read the HART devices without any problem. The Fieldgate monitors network traffic and provides basic device  information via its web server. Everything can be viewed with a web browser.
Moreover, if you have the optional Fieldgate Module SFM500 installed, you can access to the process values and diagnostics of all the field devices. Finally, the Fieldgate SFG500 and the module SFM500 are the key components for easy integration of your PROFIBUS network into the IIoT solution for health monitoring.
Simple steps to integrate your PROFIBUS network into an IIoT solution
Connecting your PROFIBUS network into the Netilion Health couldn't be simpler, but it's vital to pay attention to all the requirements before you start. You can visit the FieldEdge SGC500 prerequisites to check that everything is OK.
After you check the prerequisites, follow the steps below:
● Install the Fieldgate SFG500 in your network
● Connect the FieldEdge SGC500 to the Fieldgate SFG500
● Connect the FieldEdge SGC500 to the internet
● Access the iiot.endress.com web application and then add and configure your SFG500.
These simple steps will connect your network to the Netilion Health and you can watch the birth of the digital twin in your web application.
You will be able to get access using a secure connection through your laptop, tablet and smartphone whenever you are on this planet - flat or not - just kidding!
Furthermore, Netilion Health tracks all the asset's information, showing it in a graphic overview of events, health history for advanced analysis, and much more.
I'm sure – you're ready for the digital transformation! Now that you can see the magic happen in a couple of clicks, try it for free and bring your plant to the digital era.
Sounds great, right?