How to connect your Bluetooth instrumentation into the IIoT Cloud in 3 simple steps
Bluetooth turns out to be the tipping point to make your plant smarter than ever; let's learn how simple it is to connect your Bluetooth devices to IIoT service solutions.
If there is one thing you meet more often than devices in industry, it's the cables responsible for connecting them. You also need cables and interfaces to set up devices using a handheld. Yes, you need a dongle for every type of protocol and device.
Dongle life was present in the industry long before it hit our daily life. For instance, if you have a look at your stuff, I'm sure you have different cables and adapters to make sure you can charge your phone, mouse, laptop, camera, and other stuff, right?
Wireless communication has been getting more popular in industrial applications for some time now. We saw the first standard used in couple applications; then some proprietary protocols also popped up.
After a while, industry decided to go for open connectivity and some open wireless protocols such as WirelessHART established themselves. We thought the dongle life was close to its end, but things were still too complex to make it happen.
Now, however, one protocol brings new possibilities to provide smooth integration of your instrumentation into the cloud and, step-by-step, to make your plant smarter than ever.
I am talking about the Bluetooth protocol. The idea today is to find out how this protocol came to be a tipping point by providing seamless integration and making digitalization more concrete than ever.
Dongle life is close to the end in the automation world!
-         Hey, can you bring me the RS-485 adapter?
-         Wait, this device is HART - could you bring me the HART Interface?
-         Sorry, I thought it was HART, but it's Ethernet, do you have an Ethernet cable?
-         Oh no, this device is 4-20mA - where's my screwdriver and multimeter!
Yup, I am sure you've been in a similar situation, where you needed a different type of "dongle" or interface to get access to the device configuration, right? That's true, When I was doing field devices, I first had to check what kind of device I would be working on and then make sure I brought the right interface.
This situation is pretty similar for all manufacturers. Depending on the protocol and device, you may need a particular interface to access device parameters.
On the downside, we'll have to wait a little for solutions that eliminate dongles and the associated pain. On the upside, you can have quick access to any device today if you use a wireless solution.
Even though wireless devices, e.g. ones using the WirelessHART protocol, are getting more popular year by year, the percentage used out there is very small when compared to 4-20 mA. This, despite the fact that all wireless devices provide remote access to diagnostic and configuration information.
So the question arises - how do I implement wireless in small applications? The good news is that devices are coming on the market with an additional protocol that provides easy access using Bluetooth communication.
This makes it easier to get data out of the device and integrate them everywhere you want. At the same time, you still have the standard 4-20 mA signal connected to the controller.
Field devices with Bluetooth built in make your life easy.
It's much simpler to replace a device with a problem with a similar device than to replace it one of a different type or with a different protocol. Despite this, sooner or later a you'll have to revamp to keep your process up to date, but in the meantime, how can you access the diagnostic and configuration data?
New field devices coming onto the market offer the possibility of using two types of communication in parallel. You can still use 4-20mA to integrate them, but also get access to the configuration and diagnostics through an app on your smartphone or tablet.
However, this is done locally, which means the field engineer has to get close to the device to talk to it and that's that.  There's another requirement in a small application, though: how to get remote access the diagnostic information collected by the Bluetooth protocol and integrate it into whatever you wish?
I have good news for you! Yes, you can now remotely access the diagnostics of your Bluetooth devices in the cloud using IIoT services. If you have a remote application, you can also integrate the primary and secondary process variables into your system.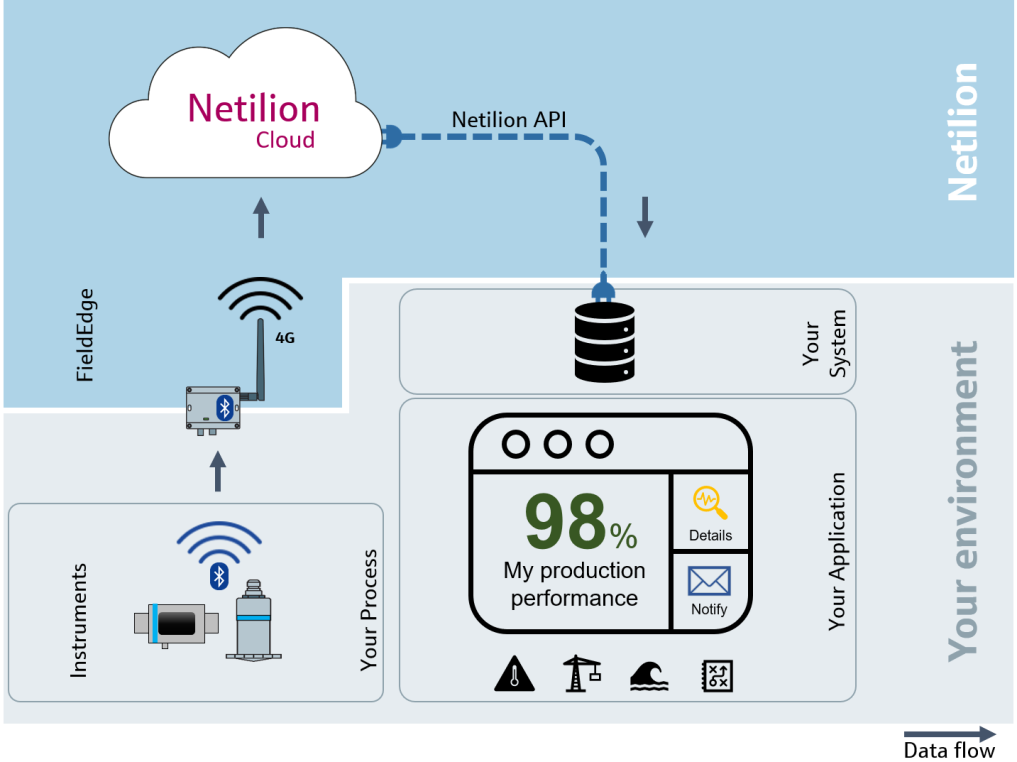 How does it work? I'll give you three simple steps so that you can start today. As I already said in another article, you can break into the Industrial Internet of Things by thinking big but starting small. Let's have a look at those steps.
Making your plant digital in 3 simple steps
Are you wondering how you could take advantage of Bluetooth technology in your plant or a new application? To make it a reality, you need to follow three simple steps. Afterwards, you'll have all the data in the cloud and can then decide how to use it in a secure environment.
First step - Bluetooth devices
As I mentioned before, nowadays you can buy field devices that talk Bluetooth. This makes your connection straightforward. Now, if you have to replace a temperature transmitter with a new one, you can get one with Bluetooth and 4-20mA or another technology.
If you have a new application requiring remote monitoring, Bluetooth devices are the easiest way to collect the data from a remote location.
All the relevant data will then be transmitted by wireless to a FieldEdge device.
Second step - FieldEdge
As soon as you get the field device with Bluetooth connection, you're ready to collect all its information and send it to a cloud solution. For this part, it's essential to have an edge device in the field, such as the new FieldEdge SGC200 from Endress+Hauser.
The FieldEdge SGC200 requires a local power supply. It connects to your Endress+Hauser field devices and sends their data to the IIoT Cloud solution. With Endress+Hauser FieldEdge SGC200, for example, up to 5 Endress+Hauser devices within a range of 20 meters can be monitored
When your field devices are connected to the FieldEdge SGC200, the primary process value (PV), the secondary process value (SV) and the NAMUR NE107 status information are read.
The connection between the FieldEdge SGC200 and the Cloud solution is done using 3G or 4G with a built-in global SIM Card. In addition, the communication between both is encrypted to ensure the highest security against non-authorized access.
Finally, communication is one way only. That means the FieldEdge SGC200 can only read the PV, SV, and NE107 status devices cyclically. Nobody can act remotely on them.
Third step - Cloud Solution and Application Programming Interface (API)
Last but not least, it's now essential to sign up to a cloud solution. This service provides a Solution as a Service (SaaS). That means you must sign up to one of the plans that best fits your requirement before you start to use the solution.
I want to give you another example, Netilion Connect. When I talk about Netilion Connect, I am referring to an IIoT cloud service that includes the Edge device, Cloud Platform, and Application Programmable Interface (API).
The cloud platform is responsible for collecting and bundling all the information from the field in a single location that provides the highest security. The Netilion Cloud is certified by EuroCloud StartAudit, for example.
But that's not all: Netilion Connect works with the standard and easy to use REST/JSON API. What does it mean? It means you get straightforward data consumption and the freedom to create your own solution apps. You can also integrate into any system you want to (Control Systems, SCADA, etc).
This means you have endless possibilities to use the data collected from the field, in a highly secure environment.
Examples of applications
Now you know how simple it is to make your plant digital, starting with small applications. I've collected some user cases to illustrate the possibilities of using Bluetooth devices together with IIoT Cloud Services.
Remote Diagnostic Monitoring
You can monitor your critical assets using this approach. The solution offers NE107 device status and this information can be collected remotely.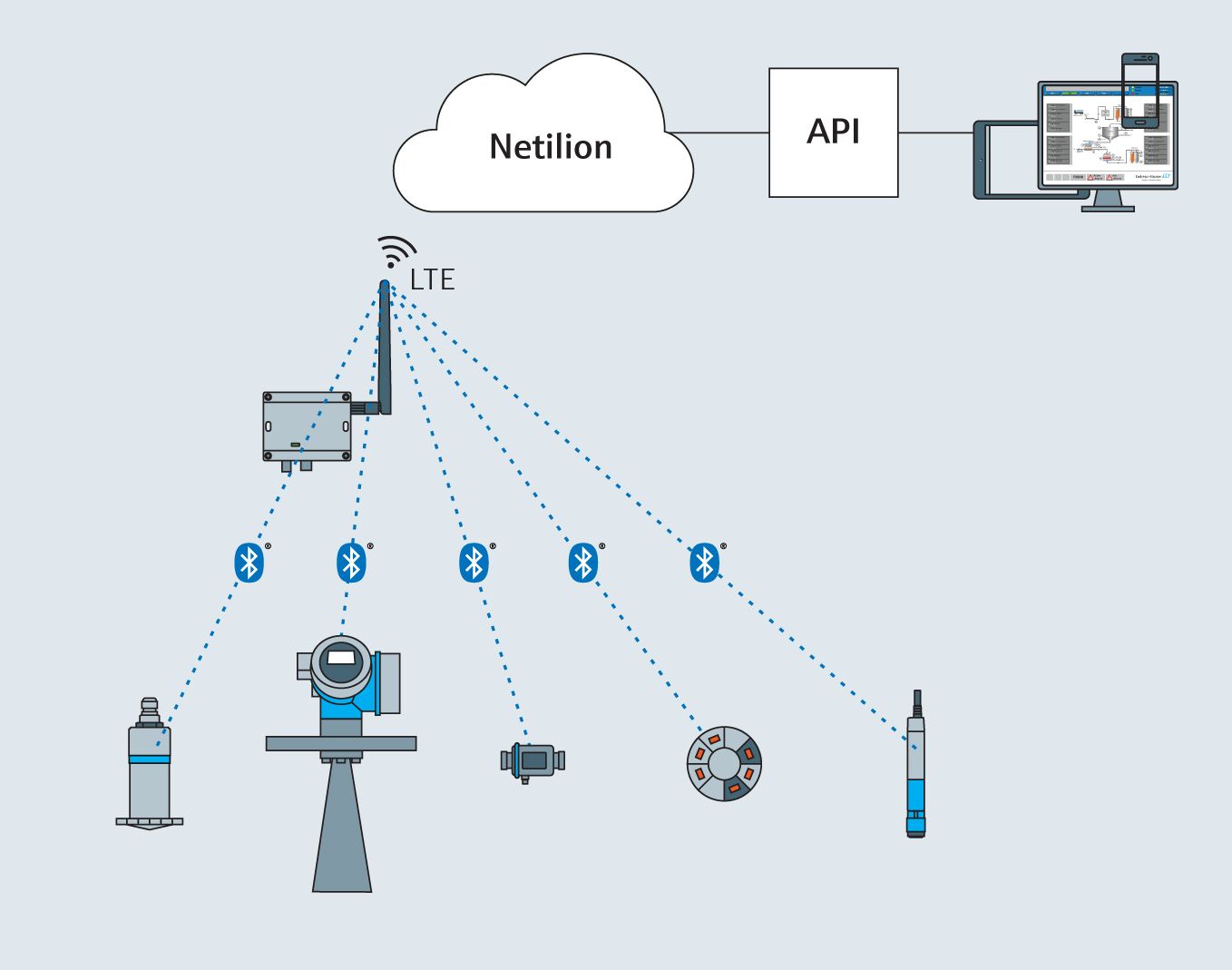 This type of health monitoring can help you avoid unscheduled downtimes and allows you to change your maintenance concept from corrective to predictive (Historical diagnostic, for example).
Level monitoring
If you use Endress+Hauser Bluetooth devices and the FieldEdge for simple level monitoring, you get remote access to the process information and diagnostics any place and any time.  Furthermore, you can integrate this data into any system you want by using Netilion Connect.
When we talk about the Inventory Management System (IMS), other solutions are providing a high level of information, such as SupplyCare.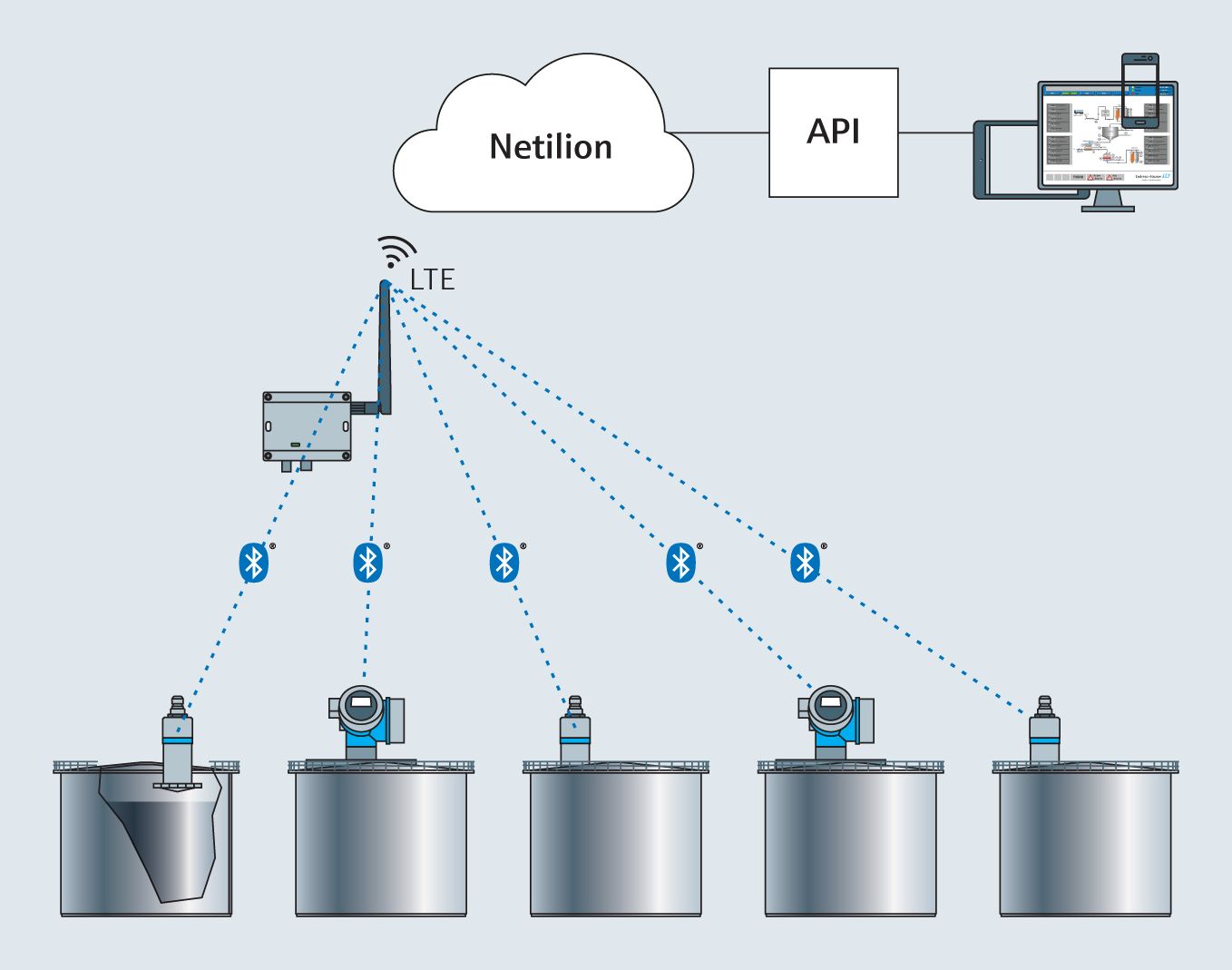 Small applications
When you have a small application for monitoring level, flow and temperature, for example, using Bluetooth devices, FieldEdge SGC200 and API gives you a flexible way of integrating the data into any platform.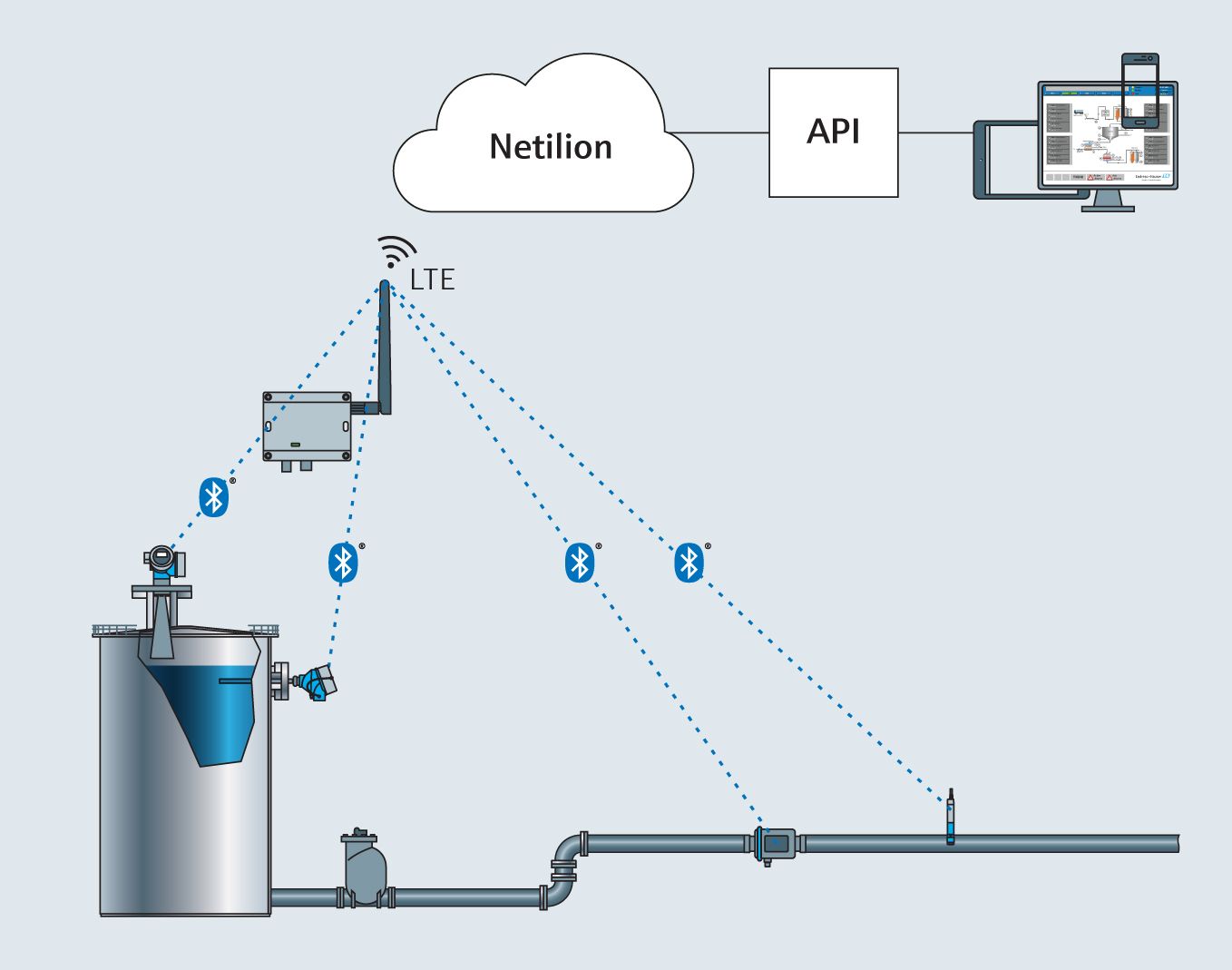 Furthermore, very little infrastructure is required to collect the data and provide it to you, wherever you are.
Wrapping everything up.
As you could see, Bluetooth devices provide a straightforward way to get all the relevant data into the Cloud. On top of that, the FieldEdge and API solutions give you the freedom to collect this data in a secure environment and integrate the information into the system of your choice.
Don't forget, if you like this article, please share on your social media using #netilion
See you next week!