The power of WirelessHART and Bluetooth in your plant #Wirelessislife
Bluetooth or WirelessHART – which one should you use? How about both? They can cover most applications, and Bluetooth can help in small applications for digitalization. Don't believe it? Let's find out how to have the best of both universes in a single device.
We're moving beyond the working principle of wireless devices now. After more than 10 years on the market, WirelessHART has consolidated many applications and industries worldwide.
Bluetooth communication has also gained a foothold in many industrial applications and has become more popular in the field. It may be less common than WirelessHART devices, but the protocol itself has been a part of our lives for many years, hasn't it?
We also know that using wireless saves money on cables and complex installation. But today we're examining the ways that this solution provides valuable insights into your applications, increasing benefits and saving money in other ways.
As you can imagine, wireless is the best match for Industrial Internet of things (IIoT) services. In a few simple steps, you can connect your plant to valuable cloud-services that offer relevant insights.
Interesting, huh? Let's learn how to get really digital.
How do you improve your plant using wireless products?
The HART/4-20mA standard still holds a significant role in the market. Trying to replace everything with a new digital network may be difficult for most companies to do at one time. New networks are best reserved for new plants or processes, but we have many possibilities to create a smooth transition for existing networks.
You're probably thinking, "If it's complicated and expensive, why am I reading this?"  Because the difficulties mostly involve cable-based networks. We have a completely different game when we talk about wireless communication.
For instance, the Fieldport SWA50 can integrate smart data from analog/HART field devices into the control system or the cloud. Such a wireless adapter is easy to install and needs no additional power supply because it uses loop power without interfering with the 4-20mA signal.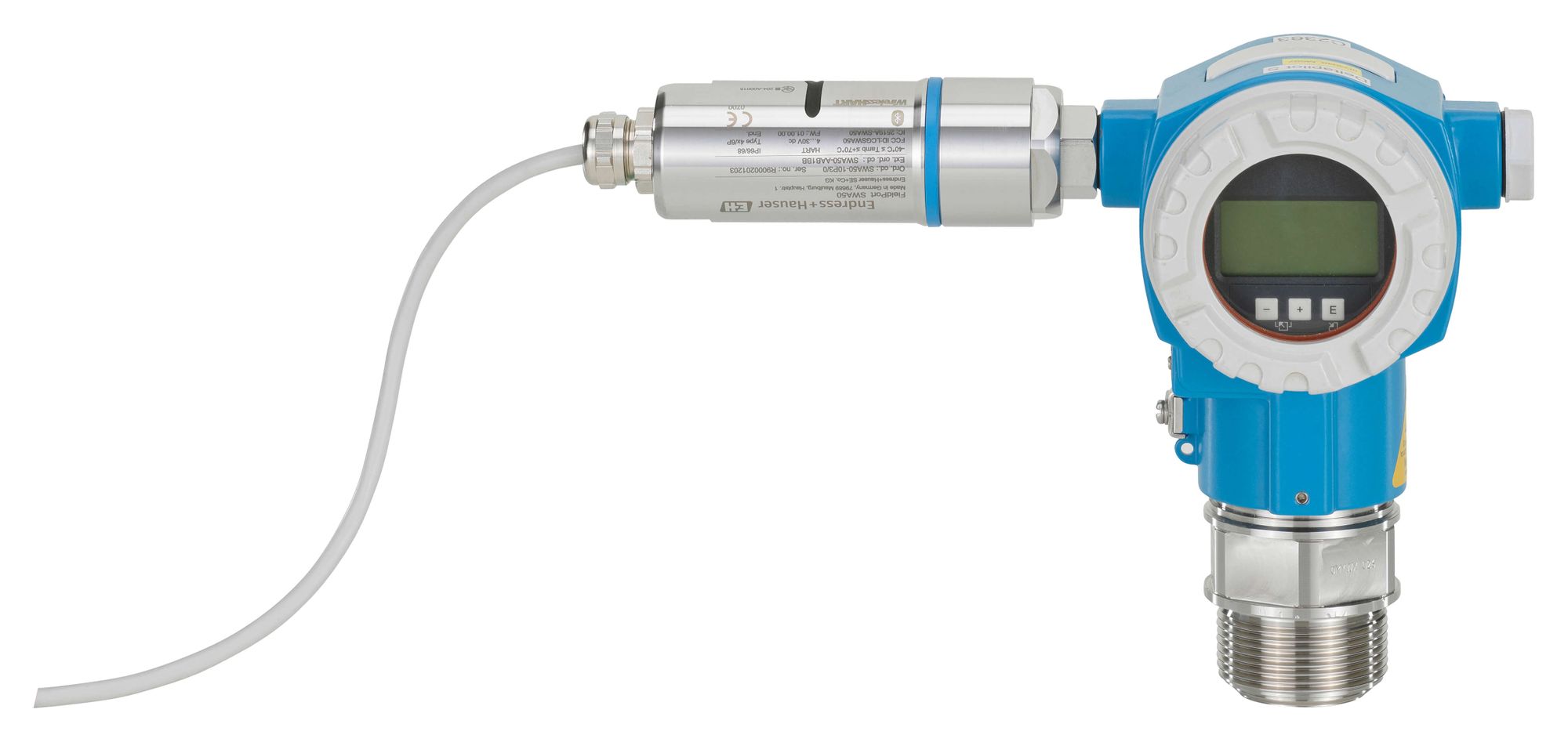 Moreover, you can install a wireless adapter in a cabled connection to the field devices without additional infrastructure. You can even install it remotely when necessary.
This use of wireless adapters like the Fieldport SWA50 can make your plant retrofit an overnight solution – seriously! On top of that, having WirelessHART together with Bluetooth brings you benefits not available in adapters with only WirelessHART.
What's the difference between Bluetooth and WirelessHART?
WirelessHART is a protocol developed for industrial applications. It has a solid reputation, and the mesh topology can create a robust and reliable network for industrial processes.
Also, a WirelessHART network's interoperability is a brilliant factor that allows you to have WirelessHART products from various brands in the same network. The protocol monitors applications and provides some simple on/off controls. Unfortunately, that's about all it does, so in many cases it may not be the best choice.
Bluetooth was developed to cover a wide range of applications, from consumer electronics to industrial processes. You probably have a Bluetooth-capable device nearby right now, like your smartphone.
The protocol shares many similarities with WirelessHART, making it easy to implement in industrial applications. Of course, it has different applications, but both networks complement each other and can work well together.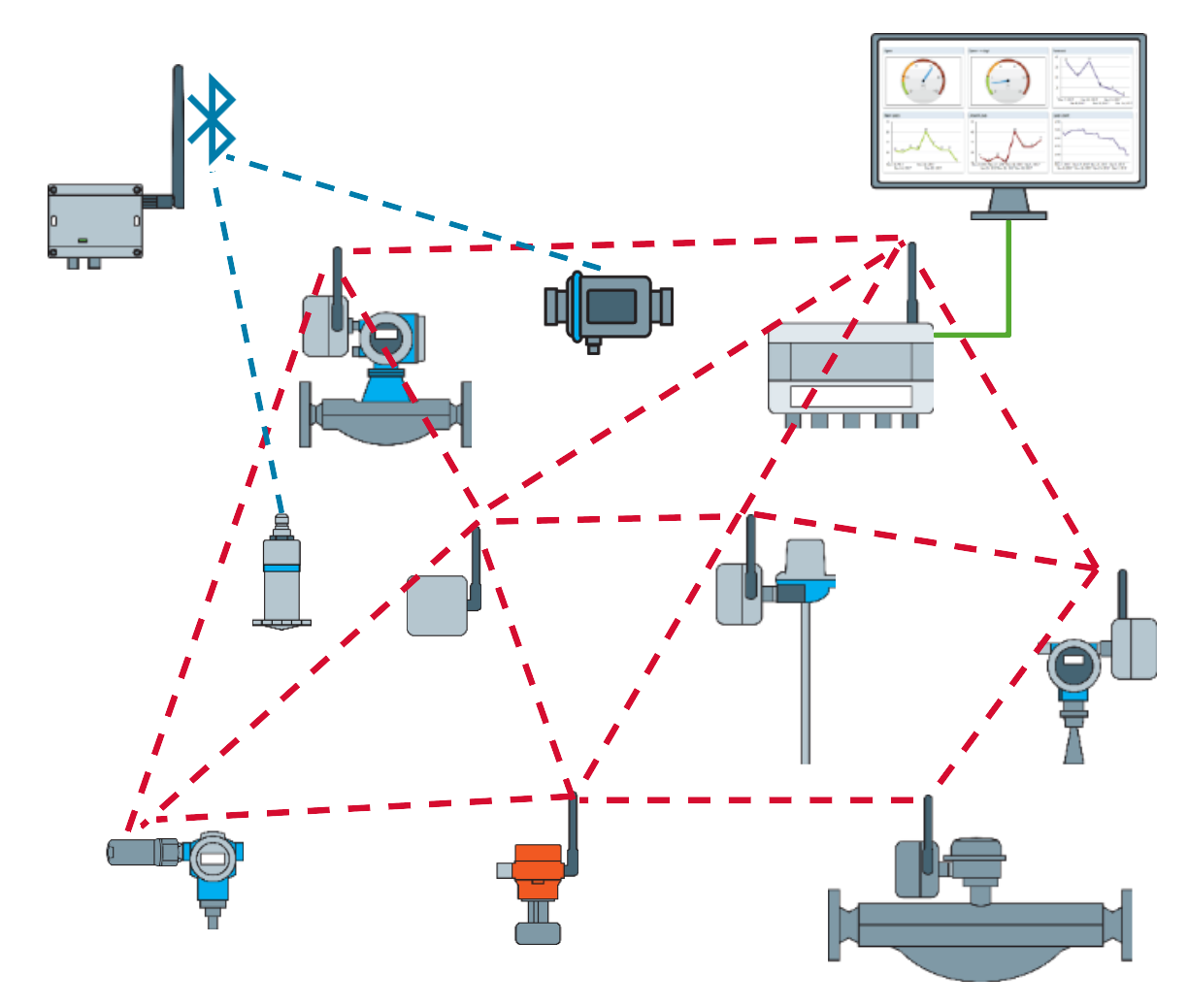 Bluetooth consumes less energy than WirelessHART but has a shorter communication range; for instance, the SWA50 has a range of up to 40 meters with Bluetooth but up to 200 meters with WirelessHART for the clear site view.
So WirelessHART works great for monitoring your process and integrating it into the control system, allowing remote access using PAM solutions or IIoT services. Bluetooth supports local wireless communication to install or monitor devices and can also integrate into the cloud for digitalization.
How does WirelessHART work?
WirelessHART operates at a frequency of 2.4 GHz, using the time-division multiple-access (TDMA) mechanism to synchronize all devices in the network, each of which communicates with a gateway.
Furthermore, WirelessHART works with a mesh network based on the IEEE 802.15.4 standard. It combines two methods to ensure reliability and security: frequency-hopping spread spectrum (FHSS) and direct-sequence spread spectrum (DSSS).
Devices can have WirelessHART built in, or you can equip them with WirelessHART adapters. The latter will upgrade 4-20 mA/HART devices to wireless instruments.
How does Bluetooth work?
Bluetooth as a wireless technology standard has enjoyed a lot of popularity in consumer electronics and computing but is expanding rapidly into industrial applications. The Bluetooth Special Interest Group (SIG) manages this technology.
The technology is standardized as IEEE 802.15.1, and it uses ISM radio bands from 2.402 to 2.480 GHz. It's designed to work at short range to reduce installation costs and energy use. As power-class-dependent devices, ranges will vary depending on the class (1 to 4) and situation.
For instance, a class-4 device will have a communication range of up to 0.5 meters, but a class 1, usually for industrial applications, can communicate up to 100 meters. Of course, devices with less communication range consume less power than devices with higher ranges.
Bluetooth communication can be open or proprietary. Usually you'll see proprietary communication in industrial applications, as they require high levels of security. Proprietary solutions can also ease local access and digitalization yet still provide a good user experience.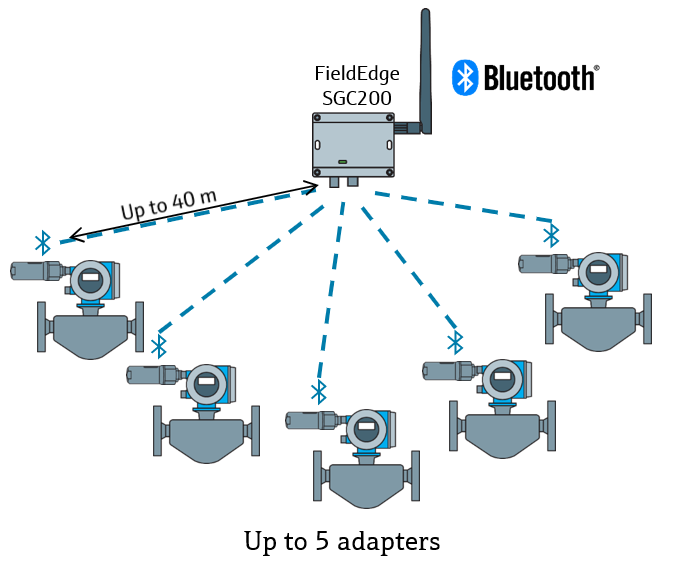 Bluetooth uses a master/slave architecture in point-to-point and mesh networks (Bluetooth 5). The industrial application of Bluetooth uses a star topology for point-to-point master communication with slave devices.
For local configuration and IIoT services, the star is more than enough. You can integrate into the control system with WirelessHART to maximize its mesh benefits.
Can I have WirelessHART and Bluetooth in a single device?
Yes. Today you can have the best of both worlds.
WirelessHART protocol is designated for control system integration to collect measurements and PAM systems to supply remote communication and access to diagnostics locally or in the cloud.
Bluetooth is designed to support local access. For instance, if you want to set up a device or check its status using your smartphone or industrial tablet, then Bluetooth can help you with that.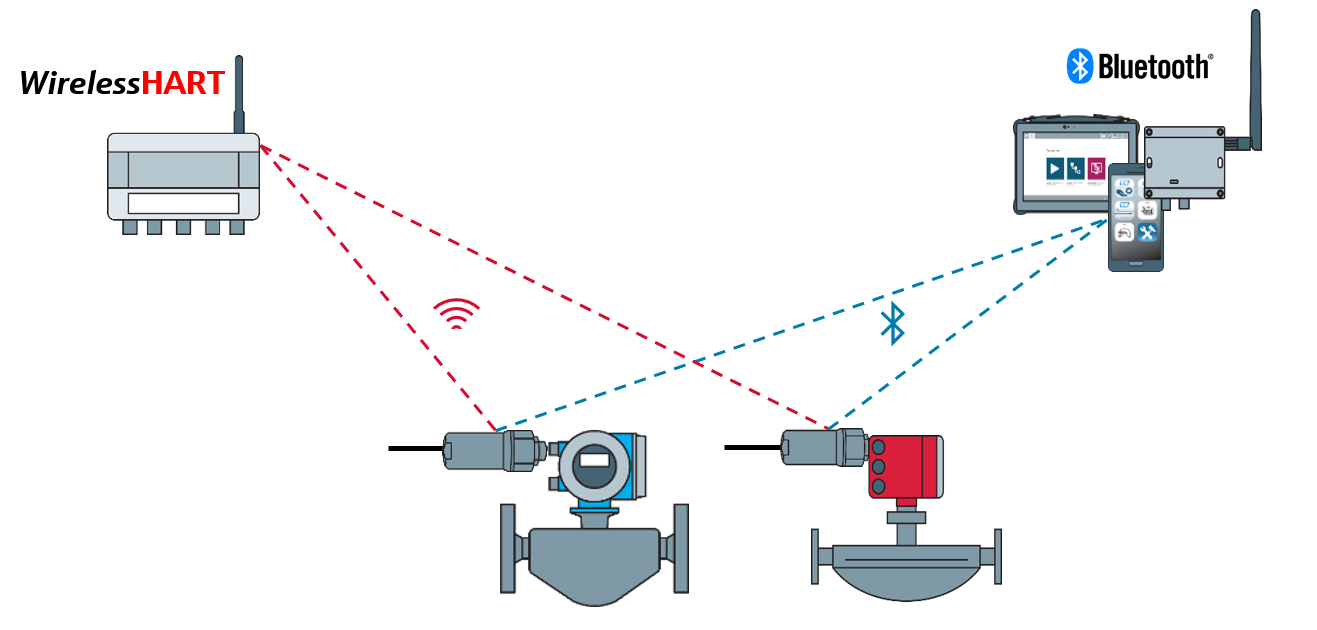 Suppose you have a small application and want to use an Industrial IoT service, such as Netilion. Bluetooth devices, together with an edge device, are the way to go. Simple, cheap, and powerful, they deliver many insights into your processes.
For example, the new Fieldport SWA50 from Endress+Hauser lets you access WirelessHART and Bluetooth benefits at the same time, making digitalization simple to implement in your plant.
And of course, if you have a small application where you only want Bluetooth, the Fieldport can also communicate strictly with Bluetooth.
Where can I use my WirelessHART products with Bluetooth?
Beyond saving money in data collection from the field, wireless communication makes it easy to send that data to the cloud to deliver real insights for your plant.
One example is your instrumentation's health monitoring. You can track your devices live in the cloud, and the Netilion Health monitoring service provides insights regarding the condition of your instrumentation.
These insights let you build better maintenance plans to avoid unplanned shutdowns, elevating your maintenance from corrective to predictive. Everything comes together simply yet securely.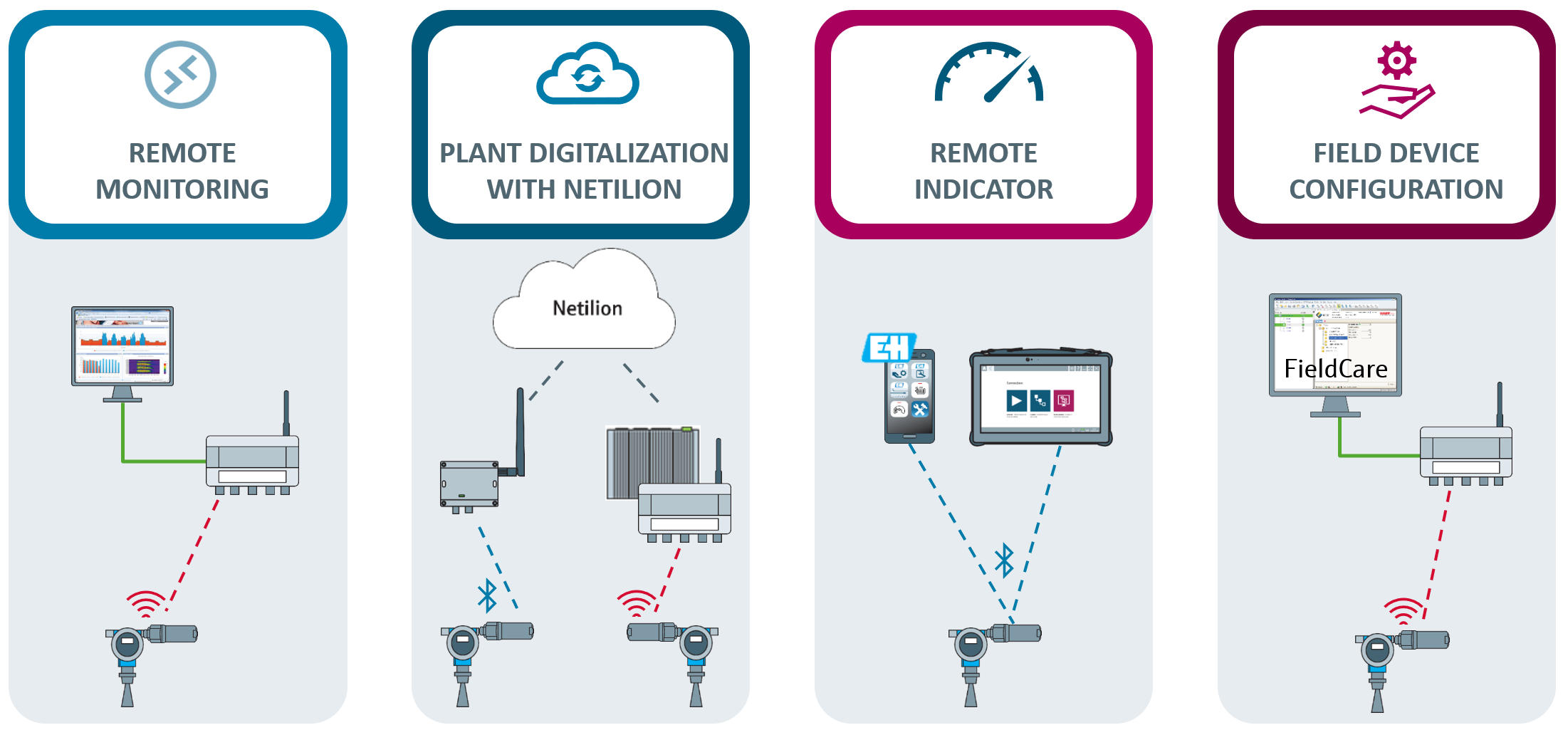 Or suppose you want to set up a field device. Rather than use your HART modem or another traditional interface, you can use your Bluetooth to configure everything using your smartphone or an industrial tablet, such as the Field Xpert SMT70.
Finally, let's talk about cloud-based monitoring services. If you want flexible monitoring for many applications such as level and flow, IIoT services like Netilion Value can provide an elegant way to access all your values anywhere you are.
Tons of applications can use WirelessHART and Bluetooth together, but we can go over more next time we catch up, if you're interested. Just drop me a line and let me know what you want to hear more about.
And of course, if you learned something useful here, please share it with your colleagues on social media using the #Netilion tag. Stay safe, and have a good one!